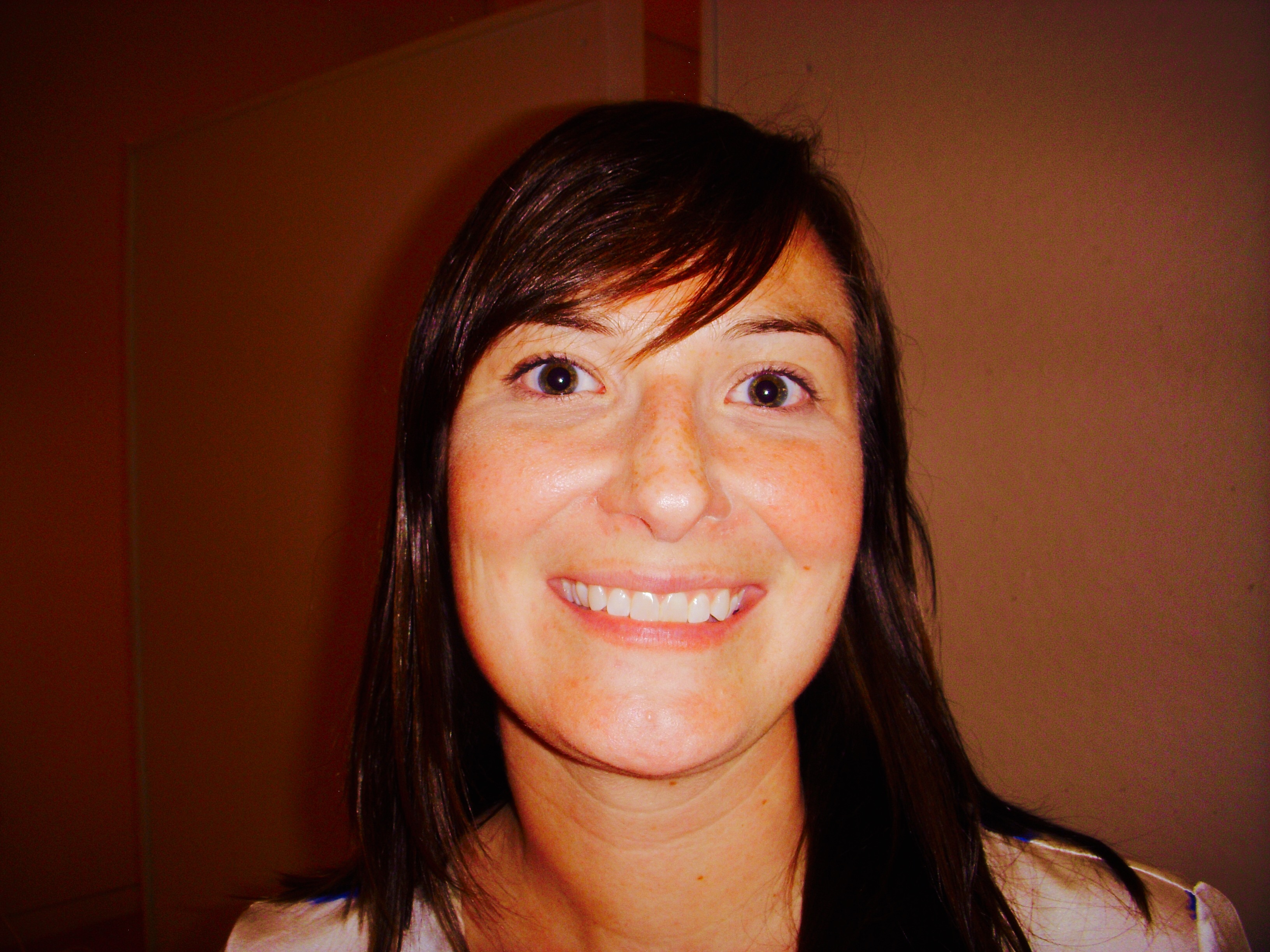 Sarah Mason
Design Strategist & Researcher
Testimonials
Kudos and Kind Words
Evaluation Highlights
Regarding my primary project work:
"Sarah has proven to master what many cannot: the difficult balance of being an expert "doer" of the work, building consensus with internal teams/clients, WHILE thinking 10 steps ahead about how to build sustainable methods so the work she's doing lives on well beyond her contributions to the project. This is evident in the year plus she spent ... leading groundbreaking work on one of Globant's biggest contracts."
"Sarah has demonstrated incredible comfort with the ambiguity that comes with defining her role in a large-scale account, where the ecosystem is complex and the plane is literally "being built as we fly it." In countless peer assessments, the most called upon traits Sarah demonstrates are:
1) The ability to see the big picture among the details
2) Her ability to calmly and eloquently handle difficult conversations with clients
3) How she thrives in a "leader-leader" setting, where no matter your role, you must earn client trust as a peer, and as a fellow leader."
"Without Sarah's technical skills in qualitative research and the product management lifecycle—and her ability to bring this to the highly complex [industrial automation] vertical—Globant would not have been well positioned to take on the larger [multi-year engagement]. Much of the work we're doing in 2019 can be mapped directly back to Sarah's work."
On my general contributions:
"Sarah is constantly chasing down knowledge and finding ways to share that with her peers and the wider Globant team. She's always pushing us to be better, sell better, deliver better, and to be more strategic and thoughtful in how we work."
"Sarah has a quiet, calming presence.... [she] is the archetype of how the world is coming to define true leadership. Sarah has the intellectual rigor, the emotional intelligence, and is an expert in the doing and in finding the forest beyond the trees. Most importantly, she brings people up with her...always finding ways to integrate multiple perspectives and points-of-view, without ego and without pretense."
"[Sarah] has the potential to be a central leader in the US as we continue expanding our strategic capabilities."
"Sarah is a great listener. She seeks to understand deeply where people are coming from, which makes her very effective in discovery and research engagements, and which also makes her an invaluable co-worker. She is a natural servant leader. Sarah inspires respect for her knowledge, expertise, and thoughtful attention to others."

- Fellow Senior Strategist, Service Design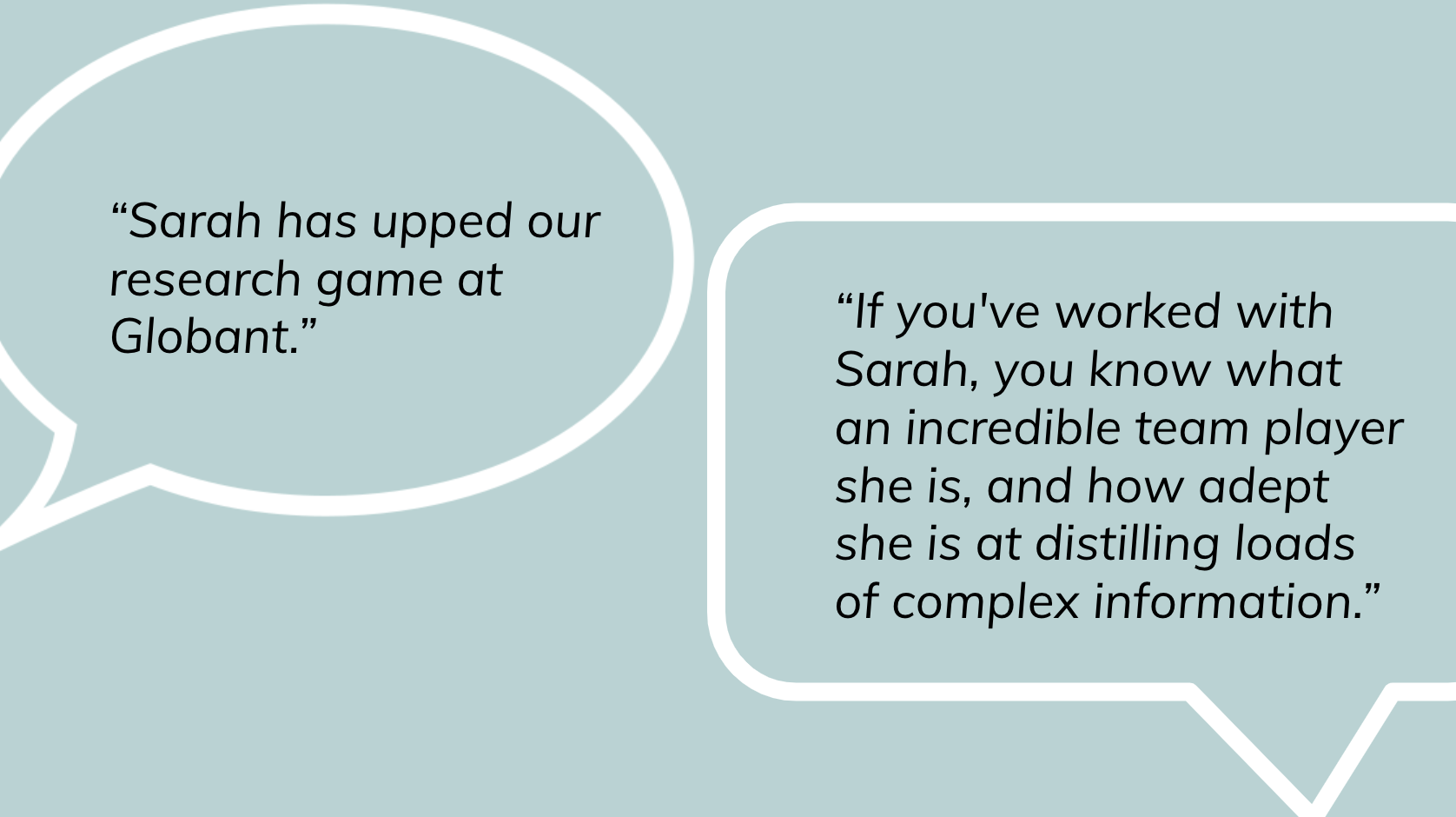 "You have such a remarkable ability to think clearly about a given situation or challenge and thoughtfully contribute to an emerging solution. Team members could learn a lot from your ability to consider options not just for their short-term benefit but for the ripples they'll continue to make into the future. You are always hard working, always intent on delivering quality, and always act with respect and kindness to clients and co-workers."
- Principal Strategist, Service Design
"Sarah is a pleasure to work with. Her particular expertise in qualitative research and constant commitment to expand her knowledge and capabilities are not only admirable, but extremely valuable to teams who work with her. She readily shares her professional experience and is always on a lookout to connect with others to exchange and share knowledge. She looks for innovative ways to engage her teams and a broader professional community and to spread her passion for research, strategy, and service design."
- Fellow Senior Strategist, Service Design